By Andrew Timmerman on Sep 22, 2020 3:12:02 PM
Often conveyor belt transfer points can get plugged, choking off material flow and resulting in decreased productivity. Some transfer points experience this issue more than others depending on climate and material characteristics.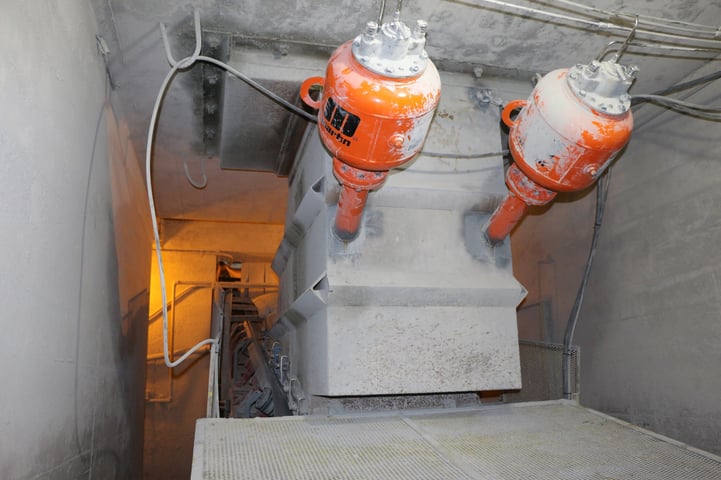 One solution, often overlooked, to combat this issue is applying a flow aid such as an air cannon. Air cannons provide reliable, persistent, and forceful blasts of air to safely and effectively clear material, returning it to the material flow.
Benefits of Air Cannons:
*Enhance flow when material conditions change, such as moisture or size
*Alternative to applying vibration for large structures or hard-to-reach areas prone to material bridging
*Nozzle and pipe options for various attachment methods/convenience
*Often small vessel sizes, such as 35-liter tank size, are effective
*Can be used in parallel with other transfer point techniques such as rock boxes
* Martin® Roll Gen™ System easily pairs with air cannons to provide power in remote locations and increased safety measures. The Roll Gen™ provides both the signal and power to engage the cannon, firing only while the conveyor is in operation.
Learn More About Martin® Roll Gen™ System

6 things to consider when placing

an air cannon on a transfer chute: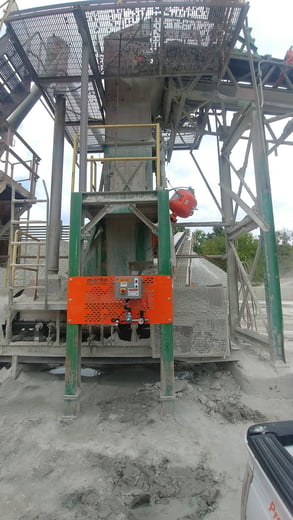 1 Is there hammer rash on the structure or air lances leaning on the structure?
2. Are blockages perpetual or condition-based?
3. Is chute work structurally sound to support the air cannon and the blast from the cannon?
4. What controls are available for the air cannon, 110VAC/220VAC/24VDC, or an alternate source such as Roll Gen™.
5. The frequency and air pressure for firing to minimize air consumption and dust production while eliminating the blockage.
6. Ensuring the cannon only fires when the conveyor is in safe-operating mode.