By Kari Kipp on Nov 24, 2020 12:37:00 PM
As we embark on our new normal and the new "holiday season," I've been thinking a lot about my menu and how and when I am going to get everything done for a successful Thanksgiving. I usually count on my parents for the main course and I bring some sides and a dessert, but this year it is all on me to give my family a delicious meal that will live up to my mother's cooking.
Comparing Turkey Day To-Do Lists
Unlike my to-do list, my husband's list is pretty short:
Smoke the turkey 🦃
Carve the turkey 🍗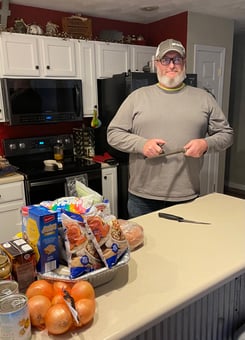 I know right, GO HIM! 🙄
He literally has already started sharpening his knives.
At first, I thought he was completely nuts as he went over his list with hesitation. I've got to make the green bean casserole, the sweet potatoes, the rolls, the pie, and the list goes on and on…AND ON. But the more I think about it, the turkey is the most important part of the meal. It's the centerpiece of Thanksgiving and what the side dishes are built around. It needs to be cooked to perfection and carved to serve.
You can't properly carve a turkey with a dull knife, just like you can't properly clean a belt and maximize production with a dull/ineffective belt cleaner blade.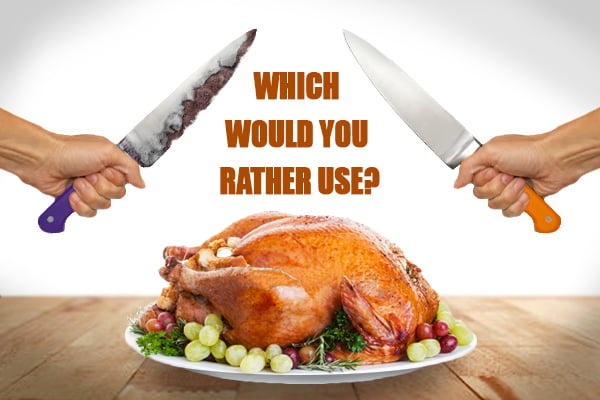 Carving & Cleaners: How They Compare
Needing a sharp knife is essential to carving up the centerpiece of the meal just as an effective and rugged belt cleaner blade is essential to reduce carryback and clean a conveyor belt. Carryback is material that sticks to the belt past the discharge point and then drops off along the conveyor's return run.
Don't Let Carryback Be The "Centerpiece" Of Your Conveyors
Carryback can lead to many other problems if left unresolved. For one, it requires manual cleanup and shoveling lost material off of the ground. This is a labor intensive job as well as an extremely dangerous one as it puts workers in close proximity to the conveyor and pinch points. As material builds up on conveyor components, it can damage rollers and idlers and cause the belt to mistrack. Carryback is one of the most preventable conveyor problems...but you need proper belt cleaning in place.

Worn, damaged, and ineffective belt cleaner blades won't do the job. You need a high-performance belt cleaner that will stand up to punishing conditions. Belt cleaners and blades aren't One Size/Style Fits All and shouldn't be treated that way. That is why we offer an entire line of color-coded urethanes to match performance with application to provide optimal cleaning and long life. Our blades utilize our patented "CARP" (Constant Angle/Area Radial Pressure) to ensure consistent cleaning across all stages of blade wear/life.
---
---
A Clean Belt Provides:
Increased Profitability
Safe Work Environment
Improved Maintenance Planning
Less Unscheduled Downtime
Reduced Material Loss
Longer Life From Conveyor Equipment
Lower Energy Costs
Decreased Dust
So in the spirit of Thanksgiving, I am thankful my husband will be taking a few things off my to-do list...even if only two as they are rather important. Don't forget to add important things like "proper belt cleaning" to your to-do list. You will be thankful!