By Tyler Bates on Sep 3, 2021 3:16:48 PM
Choosing the correct urethane belt cleaner blade for your operation can be compared to choosing the right bait for a fishing trip. If you are looking to catch a specific type of fish, you should choose a specific kind of bait designed to attract it. With a general all-purpose bait - such as an earthworm - you can catch almost anything. The same is true for belt cleaner blades, they should be selected to stand up to the exact conditions they will be operating in. Like earthworms, our standard, Martin Orange urethane blades work in a wide variety of applications.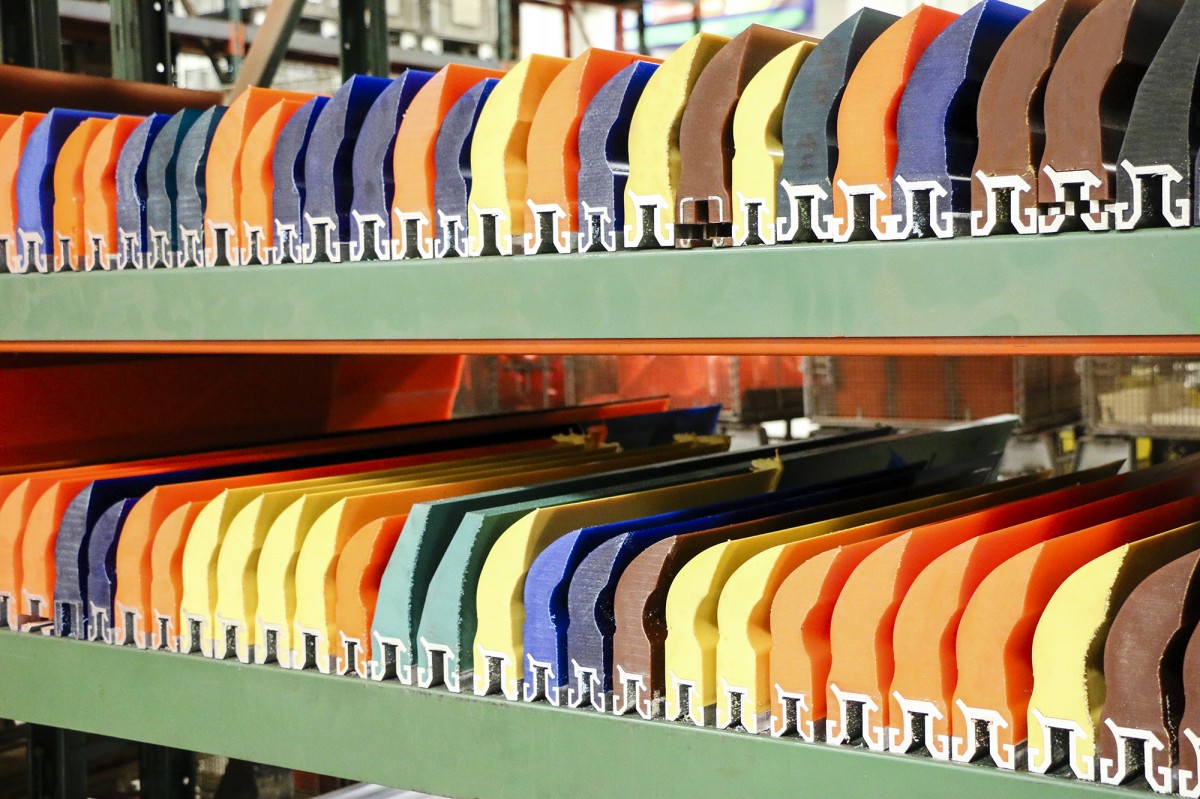 Blades Wearing Out Quickly?
I often hear customers say they think their blades are wearing out too soon. When I hear that complaint, the first thing I say is "tell me about your material and its characteristics." Usually, I end up specifying a better-suited urethane blade to extend the wear life and the "problem" is solved.
Many customers I work with choose a blue blade for a cement plant or a green blade for use with hotter materials. A brown blade is suitable for material containing chemicals that can prematurely break down other kinds of blades. The standard orange urethane works great in many situations but there are advantages to knowing the best option for unique applications and industries, such as the benefit of enhanced performance and longer blade life. For extreme applications, the Yellow blade with ceramic beads works best for long life.
Keeping It Reel & Knowing What You Need
🎣 Early-morning fishing versus middle-of-the-day or night fishing (cue up Nitty Gritty Dirt Band's "Fishing in the dark" 🎵) can completely alter the success of a fishing trip. The season, weather, location, and the ever-changing question of "are the fish biting?" can affect the possibility of getting skunked or hitting your limit. Just like having the wrong belt cleaner blade in operation for the given application, material conditions, and environment can negatively affect the productivity of the belt cleaner.
🎣 The type of bait used is important - there are many styles, colors, and scents out there! Live worms vs. rubber worms | Lures that drag the bottom or skim the surface | Spinnerbaits vs. chatterbaits | Different formulas of stink bait on a rig (cheese dip, blood, chicken liver, super sticky, etc. = all equally disgusting) - make sure to set the stink bait in the sun for a few hours to make application easier. As some of these baits are better suited to shallow, deep, mossy, windy, rough, and other environments, belt cleaner blades should be chosen with the operating conditions and environment in mind also.

🎣 Different strengths of lines can make or break fishing. Think ahead and have your poles lined with the appropriate pound test for what you are fishing for. There is nothing more frustrating than putting in the time and work only to lose a fish at the last minute to a broken line! This can compare to the ruggedness of belt cleaners and how well they can stand up to harsh conditions. There are ratings of belt cleaner systems to ensure you have a cleaner that's up to the challenge of your application.
🎣 Ice fishing requires a different set of tackle entirely = ice auger, ice scoop, ice-fishing rod & reel, a hut (a must for me as I'm more of a fair-weather fisherman), and warm clothes. This makes me think of the extreme temperatures that blades can encounter. For extreme heat, specially-formulated urethane and stainless steel hardware is required.
Ok ok ok, I'm done with the fishing analogies...almost. One more!
Carp
Believe it or not...these are all pictures of carp. Please accept my shameless plug for our "CARP" blades. Patented CARP (constant angle/area radial pressure) technology ensures consistent and efficient cleaning across all stages of blade wear and life.
Stink bait - if you know, you know!
I once had a cousin bring her new boyfriend to our family Christmas where stink bait was one of the gifts. He had never heard of it so when one of the fam members told him to take a big whiff 👃....he did! And almost threw up. He did stick around though and is now an official part of the family.
Regardless of your fisherman status - amateur or expert angler - be sure to plan ahead and take into account your surroundings before you cast the first line. This will increase the likelihood that the Fishermen Tales you tell will have some truth to them. Talking about the "one that got away" is only fun for so long.