By Brian Nance on Dec 16, 2022 11:14:06 AM
In every sports fan's season, except for those cheering on that one team, there comes a time to pivot from hoping for a trip to the Super Bowl to looking forward to the next season. Typically, that moment comes sometime after week 14 of the regular season. For the select group of fans who find themselves in my shoes (lifelong Bears fan here!), now we start to look at potential bright spots for next season, as well as the holes in our roster that stall our entire team.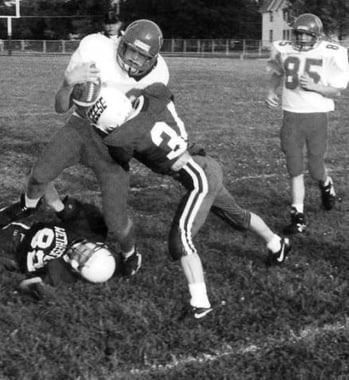 Like many teams, my high school team could have used help on the offensive line (yes, that is me above trying to stop the opponent 🏈). We had too many hits on the quarterback and too much pressure on the running backs. If we could just slow down, or stop, the defense, our offense could be very productive. As far as the football I watch, I guess I'll have to see what upper management and $80M+ do in the off-season.
As an avid football fan, I'm sitting here relating the game to dust curtains and other engineered solutions and how they positively affect bulk material handling. If you're still reading, you're probably wondering what I'm talking about (good…that means you made it past the first few sentences). Let me explain.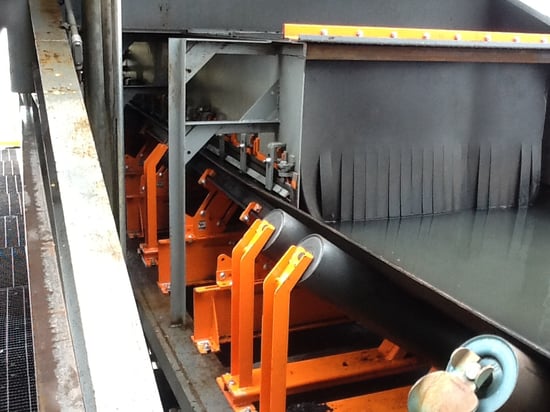 Your operation, whether it be steel, copper, cement, paper, etc., depends on your raw material. This is your offense. The more material moved from point A to point B, the more productive an operation is. Opposing that goal, or playing defense, are mechanical failures, spillage issues, and primarily fugitive dust. Even the most well-designed transfer points will not be able to "slow down the defense" or slow the velocity of the air and airborne dust enough to prevent the emission of respirable dust.
Dust Curtains
Installed near the end of transfer points, dust curtains slow loading zone airflow, allowing airborne dust to settle back into the material stream.
Curtains form a plenum that slows air velocity, allowing airborne particles to return to the belt
Slit curtains conform to the belt load without pushing material off of the conveyor
Curtains hang one inch (25 mm) below the normal material profile on the conveyor belt
Curtain bolts into steel frame for simple replacement
Rugged 1/4-inch (6 mm) rubber construction provides extended service in tough conditions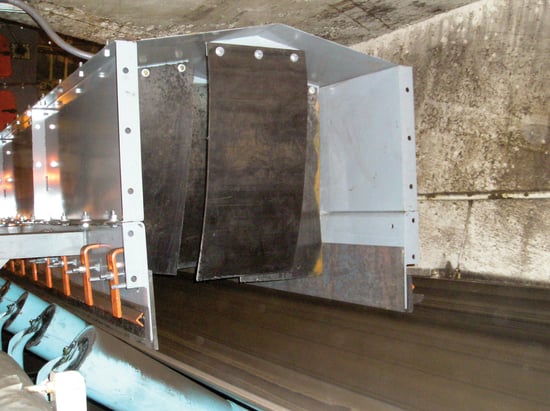 Adding dust curtains throughout your stilling and settling zones will knock down the air velocity towards the discharge, thus knocking down the suspended particles of respirable-sized material from the air. When the material is leaving the transfer area, the offensive line or dust curtains do their job by keeping fugitive material from escaping into the air and creating respirable dust around your equipment and employees.
The next time you are watching football - professional or amateur - or find yourself in a dusty work environment, I hope you remember that there are plays to overcome tough defense and solutions for slowing airflow in load zones.