By Larry Horrie on May 29, 2020 7:30:00 AM
I've seen some unique methods of attempting to vibrate concrete in precast plants. This one definitely stands out the most.
Innovative But Not Productive
A customer was struggling with the durability of the "vibrator" on his small vibrating table and was looking for ideas on how to modify his homemade design to help the "vibrator" last longer. He had a contract to provide 12"x12" exposed aggregate stepping stones for a large, big-box hardware store and couldn't afford downtime as he had to meet the production demands of his customer.
He got in touch with me to see how we could help keep him on track and improve productivity. After touring his modest facility, he took me to the vibrating table that he built. His design was actually fairly robust with a sturdy base and tabletop and it utilized proper isolators. But when we looked underneath at the "vibrator," the weak spot in his process was easily identified.
Instead of using an engineered vibrator, he made his own thinking he could save money! You see, the "vibrator" that he made was nothing more than an electric fan/blower motor. He welded large washers to one side of the shaft, creating the unbalance to provide vibration. There were a couple of things that stood out as problematic:
Welding directly to the shaft created intense heat internally
The bearings in that style motor are not engineered to handle an unbalanced situation
It was probably a really good electric motor, but it definitely was not serving as a vibrator well!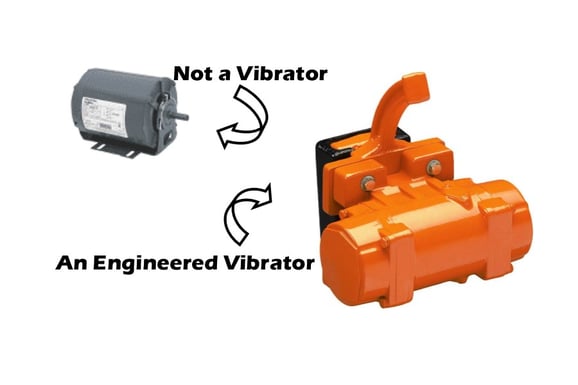 Productive AND Innovative
Before I left his facility, he showed me the pile of failed electric motors that were stacked up as well as the one he had in reserve to serve as the next soon-to-fail motor. The vibrator that I recommended is still functioning today, saving him hundreds if not thousands of dollars!
Engineered vibrators will help provide reliable and consistent precast products!
Our precast vibration experts can help determine the best solution for your unique situation!