By Barbie Allen on May 27, 2022 2:20:49 PM
The excitement of ordering something you want and/or need is directly followed by the anticipation of it shipping and arriving. Kids these days don't understand how long it used to take to receive the carefully selected and circled items ordered from a catalog or by phone. 📖 ☎️ It can be super exciting when you get a notification like "your shipment is ahead of schedule and now arriving ______." Oh, the disappointment when you open your email and see "your delivery is delayed" or "we seem to have misplaced your item." You think, "how will I recover from this?!"
Before shipping delays were a thing of normalcy, that statement might have been purely dramatic. But, depending on what items you have stuck in a shipping container waiting at a port, it could be true (or at least close). Things like medical supplies, essential parts to run your business, clothing, shoes, food, cleaning supplies, and more are just sitting and waiting. Speaking of necessary parts to run a business, we have had to do some major adapting in order to meet customer demands.
Getting Our Parts & Getting You Your Product
Once a shipment arrives at the port, the boat gets to the dock, and the containers are unloaded. In pre-Covid times and in a perfect world, this process took about four to six weeks. One week to get materials on the boat, four weeks in transit on the boat, and one week to get unloaded. Door-to-door = four to six weeks. Recently, this process is clocking in at 12 to 15 weeks. We went from 6 weeks tops to 15 weeks, quite an adjustment! We also started seeing shipping terms we had never heard of before. Not only were we waiting, we were having to research and learn to even begin to track our shipments.
Birthed = at the port and ready to unload

Staged = containers lined up waiting

Brush Pile - unloaded but in a certain area that is not getting attention at this time
With the wait times and the lack of really knowing where our stuff was, we started looking at different ports. This helped a little bit for a little while but then everybody started doing the same thing. Then we swapped freight forwarders. We loved working with our tried and true forwarders but we needed to expand and find ones who could think outside of the box and do what it takes to get our product sooner. No matter the cost, we needed our parts. With new ports and new forwarders in the mix, we were seeing shipments in around six and a half weeks. Things were starting to go smoothly...just in time for Covid to shut it all down again. It was a perfect storm.
As you know, this problem isn't specific to just Martin Engineering. Our suppliers can't get us accurate dates either. Another adaptation we implemented was offloading containers onto trucks as soon as they arrive at the port. This eliminates time and congestion on the rail lines.
Parts Are In & Now To Overcome A Backlog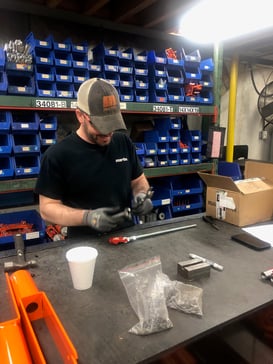 Once the highly-anticipated shipment arrives, we immediately jump right into an abundance of backorders. Our workers on the manufacturing floor are used to adapting in order to get products out quicker. They willingly work overtime and change shifts when needed. Manpower (which is hard to come by these days too) is thrown at the backlog to make headway. We have several people who graciously step out of their comfort zones and normal departments to help with assembly. We are moving people to where the work is at any given moment. Everybody is pitching in.
The Parts Finally Came In, We Manufactured Product, And Now Onto Delivery
We really have to go with the flow when it comes to "order routing." While UPS is still running smoothly, the truck side can present bottlenecks. As remote as Martin Engineering (located in a village of around 400 people) is, several LTL (less than truckload) carriers don't make it to our area often. Some come once a week while others only twice a week depending on their capacity and manpower. If they are low on drivers (sick drivers and short-staffed), we don't see them as frequently as we would like. Martin has preferred carriers that come to our docks every day. We try to encourage customers to use these preferred carriers for their benefit. Some customers choose their own carriers based on cost alone. Tip: by only looking for cheap freight, your shipment can sit at a dock for days or weeks. We see "Hot Shots" a lot...when someone places an order that day and needs it the next day. It happens all the time, and we have a carrier that helps us out with last-minute orders and delivers directly to the customer.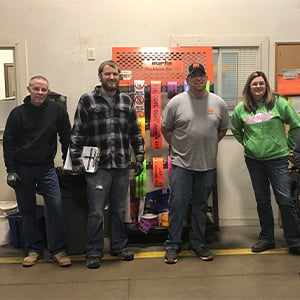 One thing to remember is that expediting a shipment is more of a guarantee to get it quickly, but things can still happen along the way:
Flat tire

Sick driver

Truck breaks down

Natural disasters such as hurricanes, tornadoes, or winter storms
We sometimes have to intercept freight in order to get it delivered to the customer. We are so used to jumping through hoops to get customers their products, we might as well be at the Westminster Dog Show. 🐩The saying "patience is a virtue" has never rung more true in my daily work than it has over the last few years. We are trying, please be patient with us!