By Larry Horrie on Nov 20, 2020 10:45:40 AM
I recently received a phone call from a maintenance supervisor at a cement plant looking for help on keeping the vibrators they're using from cracking the mounting brackets and falling off of the hopper. As we talked about the application, it became apparent to me that there was a possibility that the vibrator was completely oversized for the application.
Repurposing What Was Available
A visit to the plant confirmed my suspicion. As I toured the plant, I viewed large pneumatic clamp-style vibrators mounted to a make-shift mount constructed from plate steel. I asked some of the senior maintenance guys how they arrived at using the current vibrators for these applications. I learned that some time ago, over 20 years ago, they took the vibrators that were used to unload the railcars delivering coal to the plant. As the railcars traveled from the mine to the plant, the coal settled and compacted, making unloading a challenge. The vibrators were clamped to the structure of the railcar and violently shook the railcar to help move the coal out of the bottom dump hoppers. Now keep in mind, the railcars may have held as much as 220,000 lbs of coal. Therefore, it took a tremendous amount of vibrator force to help break loose the compacted coal and keep it flowing through the discharge.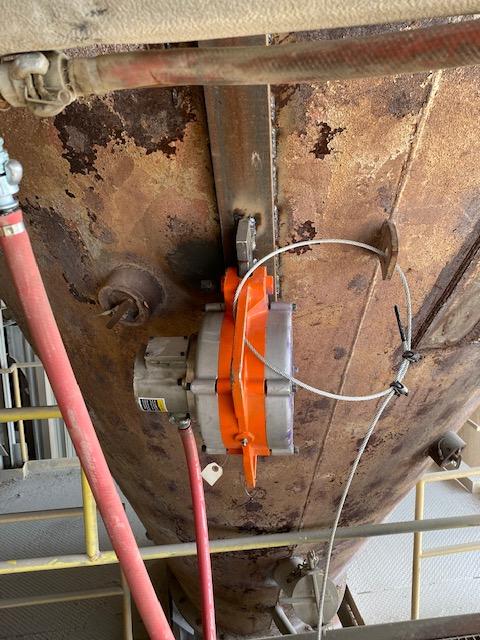 Once it was determined that there were some areas in the plant where the raw materials would accumulate (ducts, pipes, hoppers), the plant personnel pulled the same vibrator that they used to unload the railcars and fabricated a make-shift mount to clamp the vibrator on the outer wall.
Problem Solved?
Yes and No. Of course the application of the rotary vibratory force did in fact keep the material flowing as desired. But, a vibrator designed to shake 220,000+ pound railcars produced WAY TOO MUCH FORCE for the thin-walled vessels they were mounted to. While on the plant tour, the vibrators were activated and resulted in a near earthquake on the entire tower!
Though the concept of using vibrators to solve the material flow issues was correct, using the wrong vibrators for the application created a dangerous situation. Luckily, the vibrators were tethered with safety cables because the plant had experienced numerous situations where the entire vibrator and mount fell off the vessel. Thankfully no one was injured!
We were able to solve the problem by replacing the larger units with appropriately-sized pneumatic vibrators. Additionally, the customer is experiencing a cost savings due to decreased air consumption as well as overall vibrator replacement costs (about 50% cost savings).
---Want more info on vibration?
----