By Sandy Milnes on Feb 3, 2023 9:14:00 AM
Headquartered in a village, consisting of around 400 people, we know how important local support and giving back are. Not only do we strive to make bulk materials handling cleaner, safer, and more productive — we also want to positively impact the communities around us...the communities our hard-working employees live in and around.
Ignite Excellence...
"To ignite excellence so that families thrive and communities flourish" is our "why" statement - the reason we get up and come to work every day. We've found that most people want to work for a company that is involved and gives back to the surrounding communities. By doing so, employees feel valued and we develop a positive business culture.
Giving is in our DNA. It's part of our "Bleed Orange" culture. Each year, employees participate in numerous volunteer opportunities (keep reading for list). We are fortunate to have a highly-supportive and collaborative team where everyone pitches in to help others. We have fun giving back, working together, and making an impact.
I guess I better introduce myself since I am new to the blog...my name is Sandy and I'm the People & Culture Manager for Martin USA. I have been a proud member of the Martin family for 15 ½ years (wow, time flies when you're having fun)!
What I Love Most
Well, there are actually two things I love about working here:
The people - our people are the absolute best. We work together but also have fun together. No matter what kind of charitable event or community support project we have going on, they always step up, help out, and/or donate.
The commitment to supporting surrounding communities - This is very important to me because I love to help, and I find nothing more rewarding than making a difference.
Some Ways We Give Back
Handing out candy to the local grade school students during the Halloween parade
Collecting coats for a winter coat drive
Toys for Tots toy drive
Raising money for breast cancer research
Angel Tree Tags - buying Christmas gifts for needy children
Junior Achievement
Big Brothers Big Sisters
Adopt-A-Highway
Operation Santa Drop - Christmas care packages for deployed soldiers
Robotics program - STEM program for local high school students
Hosting American Red Cross blood drives
Refurbishing a local decrepit baseball field

Pay It Forward project - helping residents with their homes (mowing, painting, ramp building, etc.)

And much more...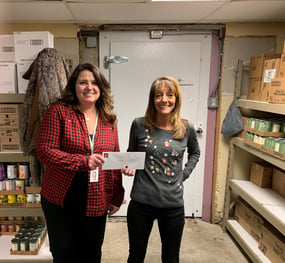 Without volunteers, many services and events in our communities would not be so successful or readily available. Donating to or spending time helping at a local shelter, food bank, etc., helps provide a vital service to those in need. Giving back to the places we call home helps unite communities...making them "flourish."
If you want to learn more about joining our team, I am the person for that - drop me a comment.