By Jerad Heitzler on Nov 29, 2019 8:45:00 AM
Last week while teaching a Conveyor Safety class, I made a statement that shocked the group (and angered a few).
"You aren't doing everything you can to keep workers safe around conveyors."
I had not reviewed their safety policies nor had I even seen any of their conveyors. But I was still confident in my statement and did not back down from it.
I see all sorts of activity and efforts to protect workers in the plants we serve. Most everyone has emergency stop switches on their conveyors. There are various policies of what you can and cannot do to a conveyor depending on lock out/tag out procedures. Often, I see signs hung up about safety. Some plants have even done a mediocre job of installing conveyor guarding. And everyone is outfitted in bright yellow with hard hats and safety glasses. But is everything being done to protect workers? Not usually...maybe never. That is a bold statement, I know! Hear me out.
It is widely accepted that the best way to avoid injury is to eliminate the hazard. The main hazards of belt conveyors are usually pinch points. Most facilities don't think they can eliminate those pinch points, but they can certainly reduce workers' exposure to them. When plant and mine personnel are continually asked to clean up spillage, settled dust, and carryback around conveyors, plant and mine managers aren't doing everything they can to protect workers. In fact, I feel they are sabotaging their own safety efforts. How can a worker take any safety directive serious when plants and mines aren't serious about reducing the risk of injury while cleaning around conveyors or decreasing the need for manual cleanup in the first place?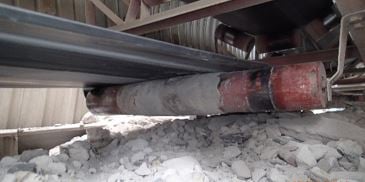 Steps facilities can take to reduce clean up:
Be sure belt cleaners are installed and tensioned properly
Transfer point skirtboard needs to be covered and long enough to let dust settle
Belt sag between idlers must be eliminated in the skirted area of the belt
Belt trackers should be added to prevent off-center loading
Skirting needs to create a consistent seal with the belt
Allowing material to escape the conveyor increases risk to workers. Cleaning around conveyors is a dirty job and, in some cases, it's a daily job. In all cases, it's the most dangerous job!
Best practices when cleaning around belt conveyors:
Never break the plane of a moving belt with a limb or tool (including broom or shovel)
If a worker must break the plane of a conveyor, it must be locked out, tagged out, and tested out
Consider locking out and tagging out nearby belts
Be trained on stored energy and block-out procedures
Protect yourself from inhalable and respirable dust created from clean up
Reduce spillage, settled dust, and carryback around conveyors and therefore reduce the risk of injury or even death while performing cleanup tasks. Don't just talk the talk...walk the walk!